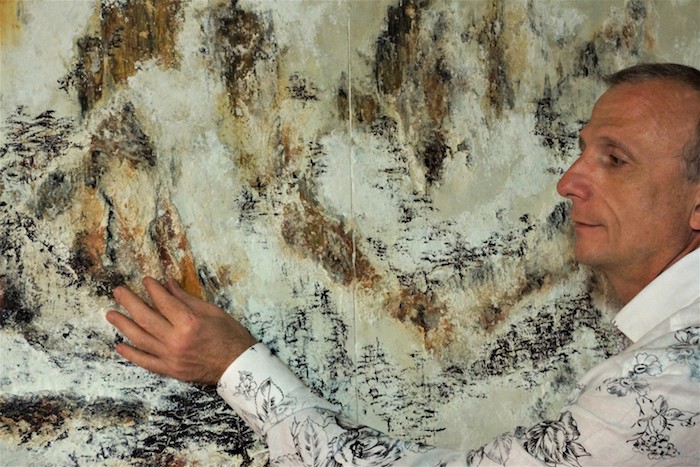 "Painting comes from the place where words can no longer be expressed."
Gao Xingjian/ From Soul Mountain
The next exhibitions 2020 :
* Senlis Sacred Art Festival, Senlis, France, April 18-28
* Galerie 2023, Lons-Le-Saunier, France, April 1 -30
* Concept Store Gallery, Paris, France, February 25 to March 7
* Paks Gallery, Vienne, Austria – January 8 to March 23
* Gallery Swiss Art Space, Lausanne, Switzerland, January 17 to February 1
***
Sarah Heussaff, Art critic and French specialist in Disability Arts.
In a passage, the impression of catharsis.
The famous saying "Things are not always as they seem, appearances can be deceiving" holds true again when compared to Dominique Meunier's artwork. As the perfect balance of yin and yang, his paintings also have filled forms and embracing curves. His work should be read as a genuine elegy to nature's beauty in its most inspiring and soothing form.
His production process is complex and lengthy. As a philosopher, he does not let his work become static; he gives the opportunity for a second print birth which, by mending torments, allows us to see more clearly. Dominique Meunier questions the vibrant, symbolic and bright side of nature. For the artist, those fundamental and artistic journeys seem to have no other purpose than to lead us to the forgotten fulfilment path. The peace prevailing in the poetry and the balance of his landscapes takes us, in between transience and persistence, to a meditative state.
Dominique Meunier has had a near-death experience a fex years ago. Memories remained after this event, but also the 'passage' topic which is highly visible in his artwork.
***
A word from the Artist: the perception of impermanence, from the matter to the light, until it glares like a serene dissolution.
"The substance of objects, in the light, gradually loses its materiality. Light slowly becomes dominant over the form that remains present, but the matter soon dissolves or fades into the light. The dialogue between colour and transparency, fluidity and movement, matter and opacity is a way to tell a story by transfiguring reality through the play of light vibrations that stimulate spatial tensions.
Attentive to the passage of time, to the subtle modulations of light, I am particularly interested in translating transient and impalpable natural phenomena. The subjects represented are then only suggested, "accidents" or "fragments", although always in symbolic correlation, and will continue to materialize memories and feelings, passages, a balance between emptiness and fullness, the yin and the yang, to create a dynamic that is that of impermanence but also that of resilience, my cathartic quest. Light guides me in my quest for harmony and balance. My painting gently glides from the material to the light until it dazzles." — Dominique Meunier.