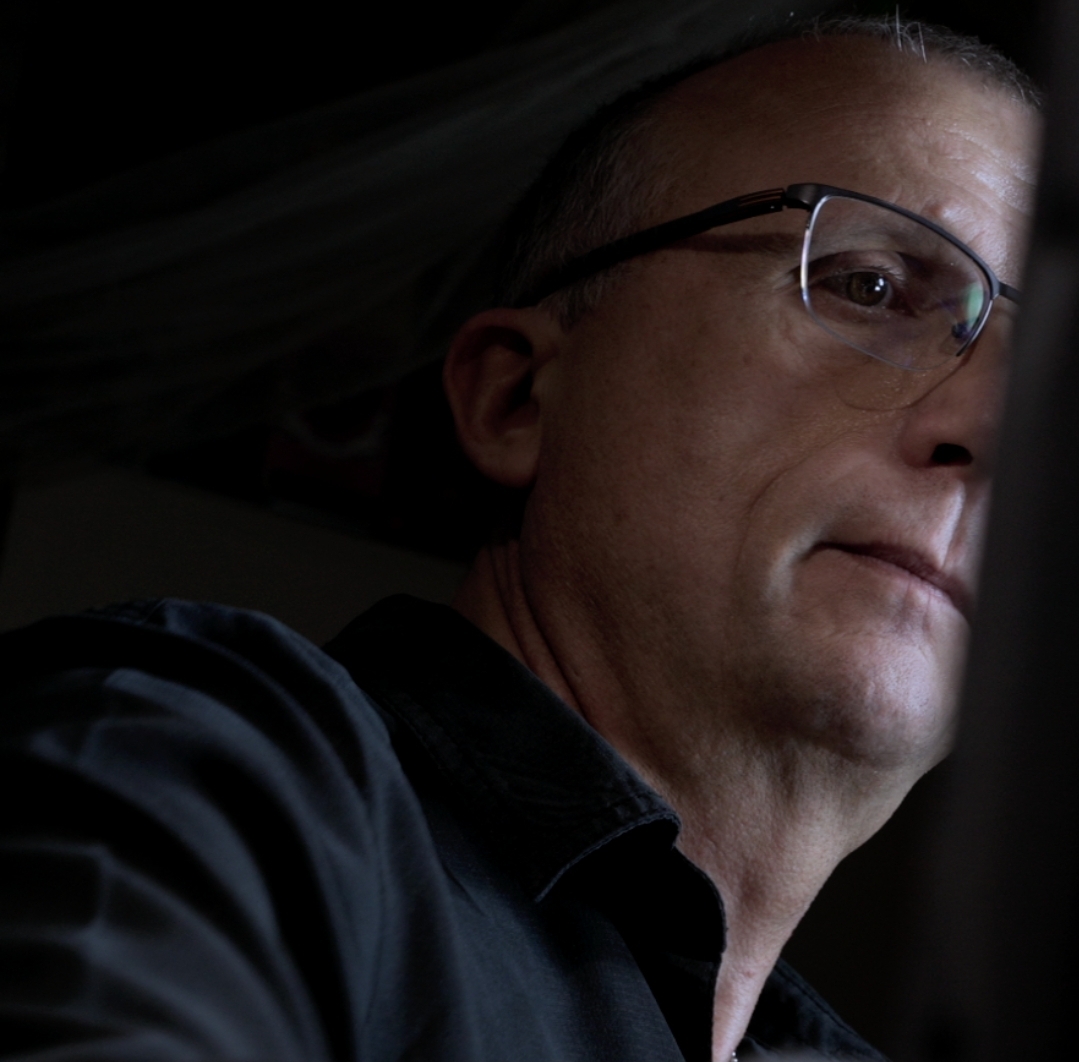 Biography
Born in 1966, Dominique Meunier is an French artist. He lives and works near Besançon, in Franche-Comté, the homeland of the famous painter Courbet.
He was taught by his mother, whose work on decorative art was exhibited at the Museum of Fine Arts in Besançon.
A career in screen printing awakened and cultivated his taste for mixed techniques and the diversity of media.
After a serious accident that turned his life upside down more than 20 years ago, he became resilient and then devoted himself entirely to creation through a deep and broad practice covering various methods and materials that promote variety and freedom of his style, united by a solid content offering him a doorway to himself by personifying the resilience of nature, its power, its beauty, which he sanctuaries in the most subtle and fragile vibration of time: the ephemeral.
His permanent search of the ultimate reality of phenomena has been recognised in several museums, galleries and art fairs in France and abroad.
***
Artistic Statement
"It is better for a painter to take care of his craft humbly, just like a craftsman..." Bodjol / The Way of Light
"The fate of the world is not between the figurative and the non-figurative but between the incarnate and the no incarnate." Jean-René Bazaine /Note on Painting
"The landscape. I must remain faithful to this ancient desire, to this desire, to this founding joy. It's my only date, the only place, the only space where I can exist. And it is this profound, absolute necessity that will give birth to this language where my momentum, at first uncontrolled, will find a form that will no longer doubt it." Vincent Bioulès
***
I describe myself as a craftsman rather than an artist because all my ideas go through the act of painting, not thinking. Painting for me is like in the morning trying to remember a dream, or remembering an emotion experienced or that you thought you were living. I owe to my mother, herself a painter and draughtswoman, this desire to progress and respect the work well done, and to my career in screen printing an intelligence of materials that matter a lot in my approach.
A soul of silence between the impermanence of the living and eternity, between oneself and infinity, I live from landscapes and, on a path turned towards the essential, I aspire to a spirituality, to a harmony of man's relationship to nature, seeking to capture the sensitive beyond appearances, questioning, through a poetic of passage and of silence, the possibilities of the representation of what seems to be in question. : the unity of man and the cosmos, the unity of man and meaning, the interdependence of phenomena.
My vocation is the space of nature and in the age of the Anthropocene, my painting is particularly interested in the interdependence of phenomena. This attachment to the world, to nature unifies all my work until non-figuration. Nature is a complex, non-reducible whole. Everything is context and part of the context without ever stopping working, there is continuity and correlations (as nature, human and the divine), two fundamental principles that are at the heart of my pictorial approach and that guide my research the fecundity of the vacuum
In an effort to simplify (mixed techniques, pigment painting, textured and mortar effects, chromatic sobriety), I question, deconstruct and recreate reality, to actually produce the living sources of my model, thus seeking a better knowledge of cosmic reality aiming for a greater presence in the world, in order, I hope, to experience the joy of recognizing oneself living there. We see forests, mountains, water in all its forms, they are mental landscapes of a reinvented nature, an idea of nature, an idea of a force that is in nature. There are places that draw the soul from its lethargy. By sanctifying nature as a sacred place, bathed in mystery and shrouded in eternity, I seek to evoke a form of reversal of the relationship between Nature and mankind because it is indeed Nature that observes and accompanies us to recognize ourselves intimately in it and thus better protect it. Nature speaks to us and beyond appearances, it invites us to decipher the signs and correspondences of its symbiosis, a path of spiritual interpretation to understand and enter into the Mystery of life.
Thus carried by a particular sensitivity to reciprocity between mankind and Nature, my work has developed for more than 30 years in a permanent dialogue with the landscape, the treatment of matter and the surface, through an allusive and materialistic poetic figuration that can go beyond appearances to non-figuration in order to evoke the Mysteries of Life, questioning man's unity with his origins and with nature, as well as revealing the presence of a spiritual reality. The human being is very little present in my creations whose Taoist conception of the world makes humanity an invisible presence in Nature itself. This freedom to paint is for me the power to divinize Nature and thus to bring man into this dialogue that eternalize him so that he becomes aware of the power of Providence.
In celebrating the epiphanies of Nature and my interior landscapes, I continue a certain writing of the landscape as a poetic resistance where it is a question of suggesting a worried interiority on the influence of man on his environment and especially on the climate and the biosphere, to hope that this world opens its eyes with wisdom and benevolence to respect for the unity of what "Is".
So I try by my materialistic touch, a multi-layered way, to involve the viewer in a physical way to his environment, my creations allowing themselves to be touched, but also to appeal to his conscience because for me the geological strata of my textured painting, the lines, curves, the emptiness and the full, are a metaphor for human memory or collective memory. It is a question of showing this trusting and close relationship with reality and thus touching the viewer so that he can find in him the memory of the presence of a river, a tree, a mountain... I therefore invite the viewer to immerse himself in this reinvented nature and thus to question his future and the passing of time, the connection he maintains with the landscape, the Mystery of life, its roots, and therefore what is to die until questioning the sacred? For me, a place becomes landscape only because it takes care of an internalized meaning, the landscape is felt as accompanying the emotions of our life. The landscape goes as far as this presence "that surpasses and yet is ours" (Saint-Exupéry) and it is anchored, by impregnating us, it transcends us to the point of transforming us and it grows us by nourishing us.
Like consciousness, my painting thus consists of a more or less massive materialization, a kind of mineral personification putting order in chaos and showing the constant, but infiltrated from different mediums and light questioning impermanence, the worlds of movements and changes, the thresholds and passages that translates the interdependence of phenomena and which refer to the interactions between man and his environment.
Following my natural attraction, I have come up with a work on monochromes, first in blues, it is the blue of healing, then the white material (sand mortars or textured pasta), and more recently on variations around black and creams until iridescence. What matters to me is to escape the innumerable colours to create harmony because chromatic sobriety gives birth to a feeling of intimacy, of tranquillity that invites us to focus on the subject by feeling enveloped by an impression of sweetness and benevolence. It is in this effort of simplification that I seek a path of light, a living light that possesses this eternal quality and which allows me to explore in an underlying way my favourite themes such as human interactions with the natural world, but also mysticism, the sacred and spirituality because painting has become for me the means of a better knowledge of oneself , a means of introspection.
My sources of inspiration are multiple at the crossroads of realism and abstraction. I paint silent natures, an ode to mineral or plant cathedrals and all wetlands, sacred spaces constituting shrines, temples inhabited by the presence of a secret life, a link between heaven and earth inviting us to rise to an afterlife that in fact is an within. Centred on the void, this space of freedom is stripping and shows an apparent immobility but where the alternation of yin and yang, the principle of harmony of impermanence, works. If sensitive nature seems eternal, man is a traveller who only passes, he belongs to the ephemeral reign but his impact on nature has become very sensitive. By drawing from the silent music of these sacred places beyond sensitive appearances, nature, complex, place of correspondences and symbols, speaks to human sensitivity by urging it to protect it.
It is a path that only makes sense if it leads to the heart of oneself because it consents to the infinity of the Mystery of life while opening spiritual roaming for seek the essence, the source of the deep mind in order to open passages to the fullness of the sensitive and the infinite space of universal freedom that I experienced during my accident: a moment of eternity, a poetic of the passage from matter that was pain to serenity material to a path of light that will envelop, in a chromatic sobriety , the identity and symbols of water, mountains and trees, as well as the deeply internalized emotions in which both my personal experiences are intimately linked to the preponderance of natural elements, but also what I perceive from the ethereal worlds since my accident. If my painting is embodied in a close identification, this absolute emotion felt before nature, my mind becoming what I contemplate, I think since my accident that everything comes from the feeling that we belong to an enigmatic universe.What is the reality?
Awards
2021 - Silver medal of the painting prize at the Salon of the National Society of Fine Arts - Paris
2018- Public's first price - group exhibition (80 artists, 300 artworks) LIONS CLUB-Besançon, France
Main exhibitions
Coming soon :
2022 - Tokyo Metropolitan Museum, Japon
***
2021 -

«Salon d'Automne» Art Fair- Paris,environnemental art section, Paris, France

2021 - Senlis Sacred Art Festival, Compiègne, France

2021 -

Art expo New York

2021 -

Art Gallery 2023 , Lons-le-Saunier, France
***
2021 - Salon of the National Society of Fine Arts, at The House of Japanese Culture, Paris

2021 -

Vis'Art Gallery, Lyon, France

2021 -

Angle d'Art Gallery, St Blaise Neuchâtel, Switzerland

2021 -

Mamag Modern Art Museum, Austria

2020 -

Menduina Schneider Art Gallery - Los Angeles, California

2020 - «Salon d'Automne» Art Fair- Paris, environnemental art section, Paris, France

2020 - Art Show Paris VII, Paris, France

2020 - Concept Store Gallery, Paris et La Baule, France

2020 - Paks Gallery, Munich, Germany

2020 - Paks Gallery, Vienna, Austria

2020 - Swiss Art Space, Lausanne, Switzerland - Selection 8° winter edition

2019 - MAMAG Modern Art Museum, 2nd International Fine Art Biennale, Basel, Switzerland

2019 - Solo exhibition "In the intimacy of my workshop", Buthiers, France

2019 - Concept Store Gallery– Art center, La Baule, France

2019 - Paris Contemporary Art Show - by YIA Art Fair, Paris, France

2019 - Swiss Art Space, Lausanne, Switzerland – Selection 7° Landscape edition

2019 - Contemporary Art Fair, Paris, France

2018- The Grand Kursaal Lions Club, Besançon, France. Public's first prize.

2018 - Art Shopping Carrousel Fair– Paris, France – 'Artists Workshop Club Paris' selection.

2018 - Invitation to the exhibition "From reality to dream of Thibaut Froehly, Castel Peugeot, Audincourt, France

2018 - Concept Store Gallery Dauphine, Paris, France

2018 - Solo exhibition « Clarity » - Meadow studio, Buthiers, France

2017 - Solo exhibition « Reminiscence and resilience » - Meadow studio, Buthiers, France

2016 - Solo exhibition « Material and sensations », Meadow studio, Buthiers, France

2015 - Solo exhibition

« The trace »

, Meadow studio, Buthiers, France

2014 - Solo exhibition « Song of return », Meadow studio, Buthiers, France

2013 - Solo exhibition « Path », Meadow studio, Buthiers, France

2012 - Solo exhibition « Memory and the sea », Meadow studio, Buthiers, France

2011 - Solo exhibition « Read in oneself », Meadow studio, Buthiers, France

2010 - Solo exhibition « Blue Addict », Meadow studio, Buthiers, France

2008 - Solo exhibition « Green Addict », Meadow studio, Buthiers, France

2005 - Solo exhibition « Crossing to the other bank », Meadow studio, Buthiers, France

2004 - Solo exhibition « Interval », Meadow studio, Buthiers, France

2003 - Solo exhibition « Fertile wounds », Meadow studio, Buthiers, France